A new way to learn, powered by AI
What could you learn with a 24/7 tutor personalized for you? Unleash your potential with Khanmigo, Khan Academy's AI-powered tutor.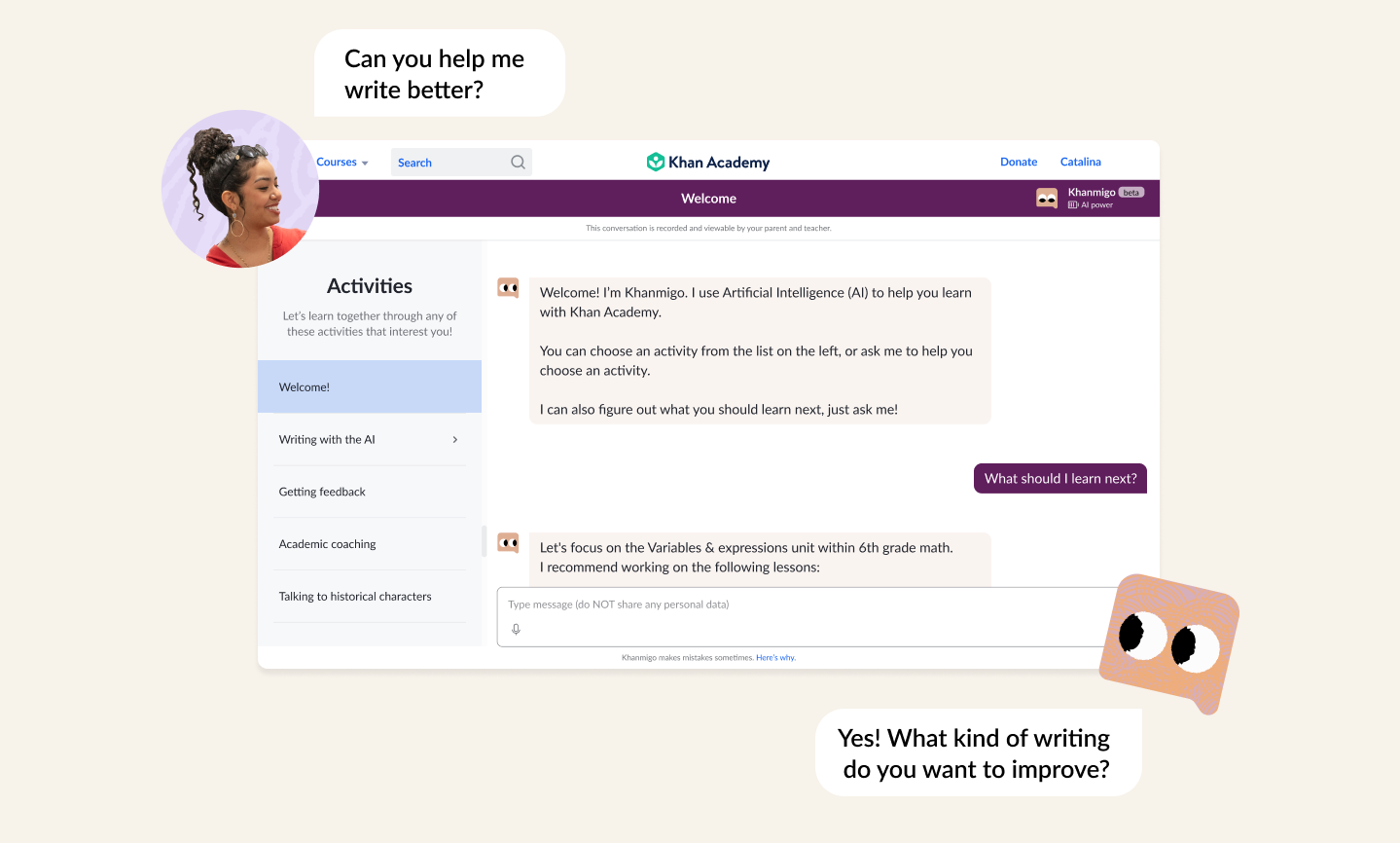 Save Time, Deepen Knowledge and Excel with Khanmigo!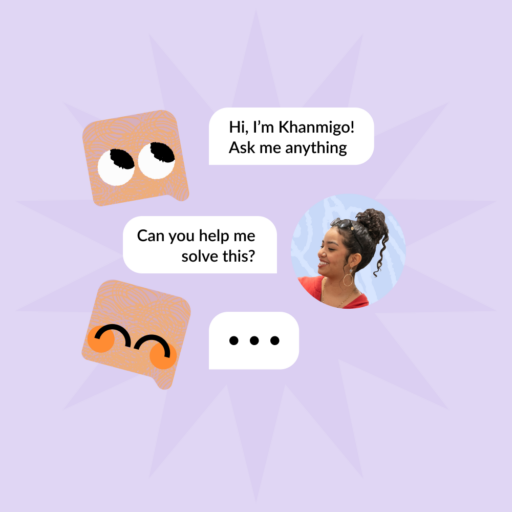 Tutoring for all
Khanmigo provides personalized, one-on-one tutoring to bring deeper learning, curiosity and fun to learners of all backgrounds.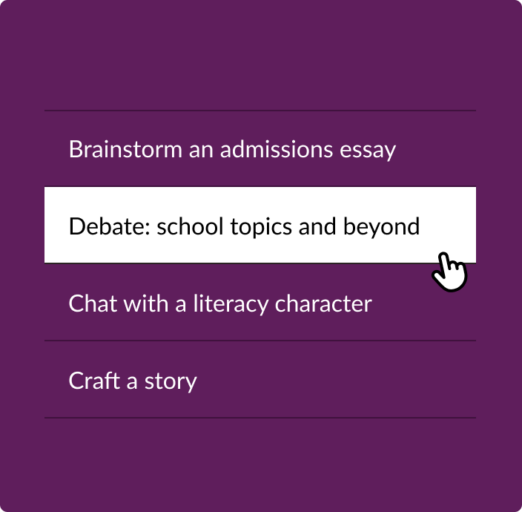 Unlock creativity.
Embrace your inner writer and thinker with Khanmigo. As your writing coach, Khanmigo boosts creativity with real time feedback, debate and collaboration.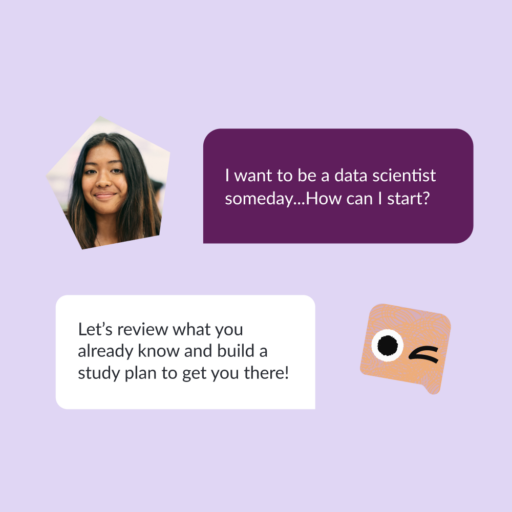 Academic and career guidance
Get admissions guidance, strengthen your foundations or learn a new career skill. Khanmigo understands your goals and tailors academic and career guidance to help you get there.
Sign up for Khanmigo, your always-available tutor.
Sign in to Khan Academy
If you have a Khan Academy account, simply sign in. If you don't have one, creating an account is free and easy!
Make a donation
Make a $9 monthly or $99 annual donation to support our mission and help offset computing costs. (Must be 18 or older in the US).
Receive an email confirmation
You'll receive a confirmation email if you meet the Khanmigo testing requirements . Log into your Khan Academy account to use Khanmigo.
Khanmigo
$9/month or $99/year
Our always-free content with 100,000 practice exercises + the power of AI = 24/7 access to personalized tutoring.
---
✔️ Personalized tutoring on every exercise and video in Khan Academy's world-class content library
✔️ Activities with Khanmigo, such as Debate, Essay Feedback, and Coach my Career Growth
✔️ Tailor your learning to your interests
✔️ Personalize preferences and access your chat history with Khanmigo.
✔️ Support Khan Academy's mission to make world-class education accessible to all
---
Want your students to have Khanmigo access? At this time, classroom access is only available through school or district implementations.
Khanmigo uses GPT-4, and every interaction has costs. Your donation helps cover these costs and supports Khan Academy's work to bring educational innovations and AI to communities that traditionally get left behind.
Why people love learning with Khanmigo
"I have the freedom to work with a world-class tutor that is never annoyed by my constant questions. I can ask anything I need."

-STUDENT
"The way it can work through problems is incredible. There are moments when it greatly surpasses a tutor."
-STUDENT
"It's like having another teacher who has infinite patience and knows every subject"
-STUDENT
Frequently asked questions about Khanmigo, our AI tutor
Can anyone use Khanmigo?

To access Khanmigo, you must make a monthly or annual donation, be 18 years or older, live in the United States, and have a billing address in the U.S.

If you are under 18 years old, your parent or guardian needs to sign up in order for you to gain access. Please ask your parent or guardian to sign up and add you to their account.

Teachers – check out how Khanmigo can be your AI-powered teaching assistant.
How do I sign up my children to use Khanmigo?

We are thrilled you want to have your children use Khanmigo. After you make a monthly or annual donation, your account will be activated, and you will have the option to enable access for your children who are under 18. Note: if your child is part of an active Khan Academy classroom, you may not be able to activate Khanmigo access on their account. Please reach out to our support team if you have any questions.
Why is a donation required to access Khanmigo?

Khan Academy is a small nonprofit funded by donations. Each interaction with Khanmigo incurs costs. Your donation helps us support Khan Academy's mission while giving you access to a groundbreaking learning experience.
Are people who donate the only ones who can use Khanmigo?

Khan Academy's content library is always 100% free and available to anyone who wants to learn. During this beta testing period, a Khan Academy donation is required for individuals, families, and teachers to access Khanmigo. Donations help offset the cost of using Khanmigo and support Khan Academy's mission.

We invite district and school administrators to contact our Districts Partnership team to learn more about Khanmigo for Districts.

Learn anything, anytime with your AI-powered tutor
---