Khanmigo: 24/7 AI-powered tutoring
Tailored support, engaging lessons, and parental peace of mind.
Take your child's learning to the next level with Khanmigo, an AI-powered personal tutor ethically designed with safety and learning as a top priority.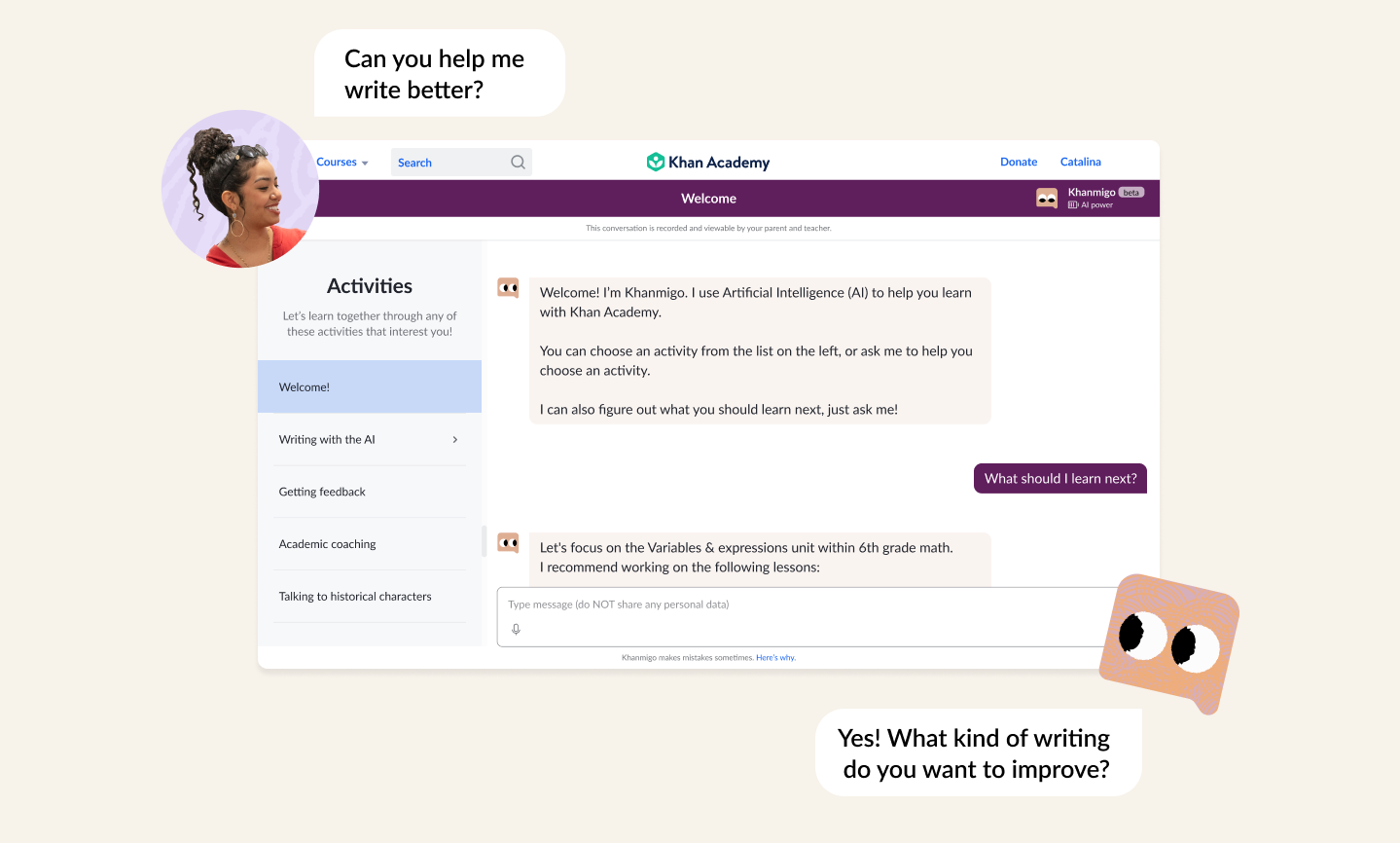 Accelerate your child's learning with our AI tutor, Khanmigo.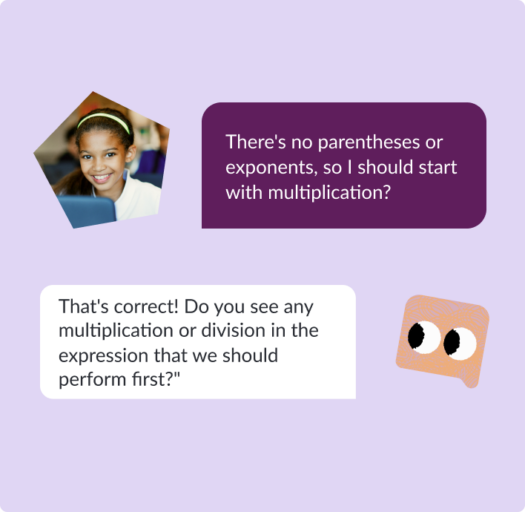 Tutoring one-on-one, 24/7
With Khanmigo, your child can practice new skills, get unstuck on their homework, or learn something new.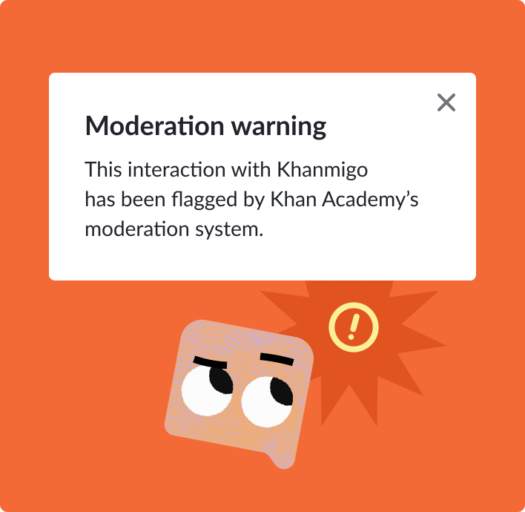 A safer introduction to AI
Khanmigo's guardrails help keep you informed. View chat history records and get alerts about inappropriate interactions.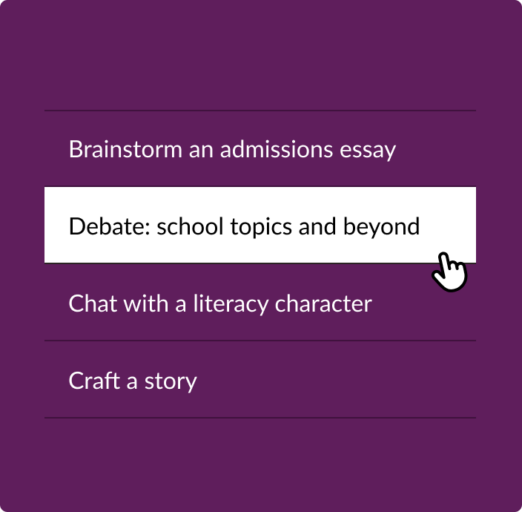 Unlock critical thinking
Like any good tutor, Khanmigo doesn't just tell your kids the answers; instead, it gently guides them to find the answers themselves.
Sign up for Khanmigo and transform your child's learning.
Sign in to Khan Academy
If you have a Khan Academy account, simply sign in. If you don't have one, creating an account is free and easy!
Make a donation
Make a $9 monthly or $99 annual donation to support our mission and help offset the costs of GPT-4.
Receive an email confirmation
You'll receive a confirmation email if you meet the Khanmigo testing requirements (ages 18 or older in the United States).
Khanmigo for families
$9/month or $99/year
Our always-free content library with 100,000 practice exercises + the power of AI = 24/7 access to a personalized tutor.
---
✔️ Personalized tutoring on every exercise and video in Khan Academy's world-class content library
✔️ Activities with Khanmigo like Craft a story, Chat with historical figures, and Coach my career growth
✔️ Add children from your parent account.
✔️ Access your chat history and view the history of your children's interactions with Khanmigo.
✔️ Support Khan Academy's mission.
---
Khanmigo uses GPT-4, and every interaction has costs. Your donation helps cover these costs and supports Khan Academy's work to bring educational innovations and AI to communities that traditionally get left behind.
Why families love learning with Khanmigo
"The amount of time it saves me helping my daughter with her math homework is substantial."
Parent in Massachusetts
"My son asked Khanmigo complex science questions and got answers in ways he understood."
-Parent of high schooler
"My daughter's writing improved. She is no longer frustrated when an assignment is due."
-Parent of middleschooler
Frequently asked questions about Khanmigo, our AI tutor
Can anyone use Khanmigo?

To access Khanmigo, you must make a monthly or annual donation, be 18 years or older, live in the United States, and have a billing address in the U.S.

If you are under 18 years old, your parent or guardian needs to sign up in order for you to gain access. Please ask your parent or guardian to sign up and add you to their account.

Teachers – check out how Khanmigo can be your AI-powered teaching assistant.
How do I sign up my children to use Khanmigo?

We are thrilled you want to have your children use Khanmigo. After you make a monthly or annual donation, your account will be activated, and you will have the option to enable access for your children who are under 18. Note: if your child is part of an active Khan Academy classroom, you may not be able to activate Khanmigo access on their account. Please reach out to our support team if you have any questions.
Why is a donation required to access Khanmigo?

Khan Academy is a small nonprofit funded by donations. Each interaction with Khanmigo incurs costs. Your donation helps us support Khan Academy's mission while giving you access to a groundbreaking learning experience.
Are people who donate the only ones who can use Khanmigo?

Khan Academy's content library is always 100% free and available to anyone who wants to learn. During this beta testing period, a Khan Academy donation is required for individuals, families, and teachers to access Khanmigo. Donations help offset the cost of using Khanmigo and support Khan Academy's mission.

We invite district and school administrators to contact our Districts Partnership team to learn more about Khanmigo for Districts.

Learn anything, anytime with your AI-powered tutor
---